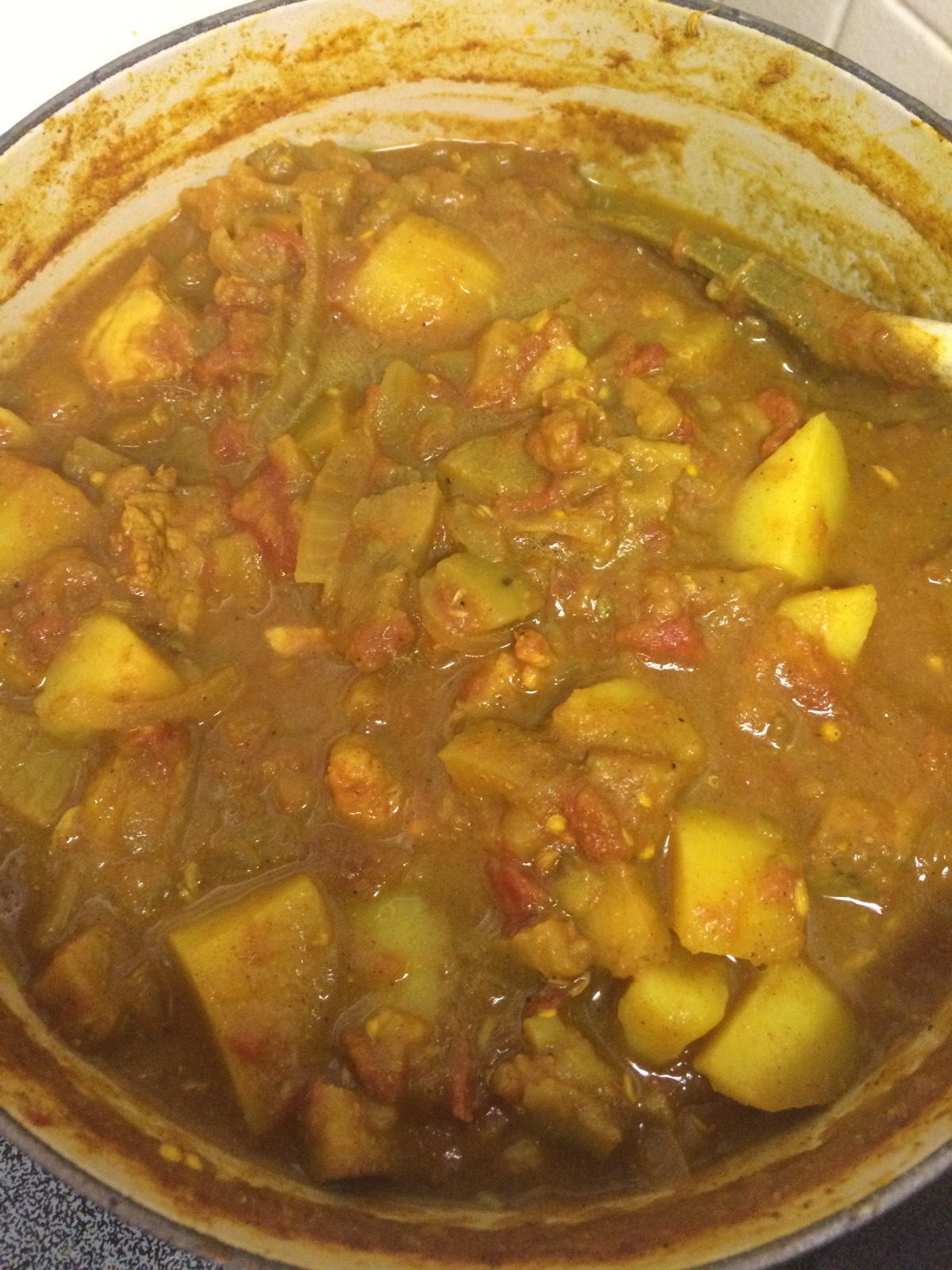 This is a delicious and fairly easy curry recipe, it uses many spices and has a lot of flavor.
NOTE: the longer you leave it to sit, the better the flavors to develop
Prep: 35min
Total: 6h35min
Yield: 6 , 6 serving(s)
Servings:
Nutrition Facts : calories 449, Fat 15.4, Saturated Fat 3.3, Cholesterol 46.4, Sodium 876.5, Carbohydrate 58.4, Fiber 13.7, Sugar 10.5, Protein 23.4
Ingredients:
3 tablespoons oil (any kind)
3 chicken breasts, boneless, skinless, 1-inch cuts
6 tomatoes, cut by 1-inch
6 gold potatoes, cut by 1-inch
2 eggplants, cut by 1-inch
1 large onion, sliced
5 cups water
3 -4 teaspoons garam masala
3 -4 teaspoons turmeric
3 -4 teaspoons indian curry powder
3 -4 teaspoons cumin
3 -4 teaspoons chili powder
2 -3 teaspoons garlic powder
2 -3 teaspoons salt
2 -3 teaspoons coriander
3 -4 teaspoons fennel seeds
3/4 teaspoon sugar
2 teaspoons nutmeg
3 1/2 teaspoons ginger
Instruction:
Cut all of the vegetables and the chicken accordingly. Put all ingredients into a large pot (not cast-iron, the acidity of the tomatoes is bad for it).
Cook over high heat for approximately 10 minutes. Turn heat to low and let slow cook for approximately 7 hours.
Serve with hot basmati rice or naan/chapatis/roti.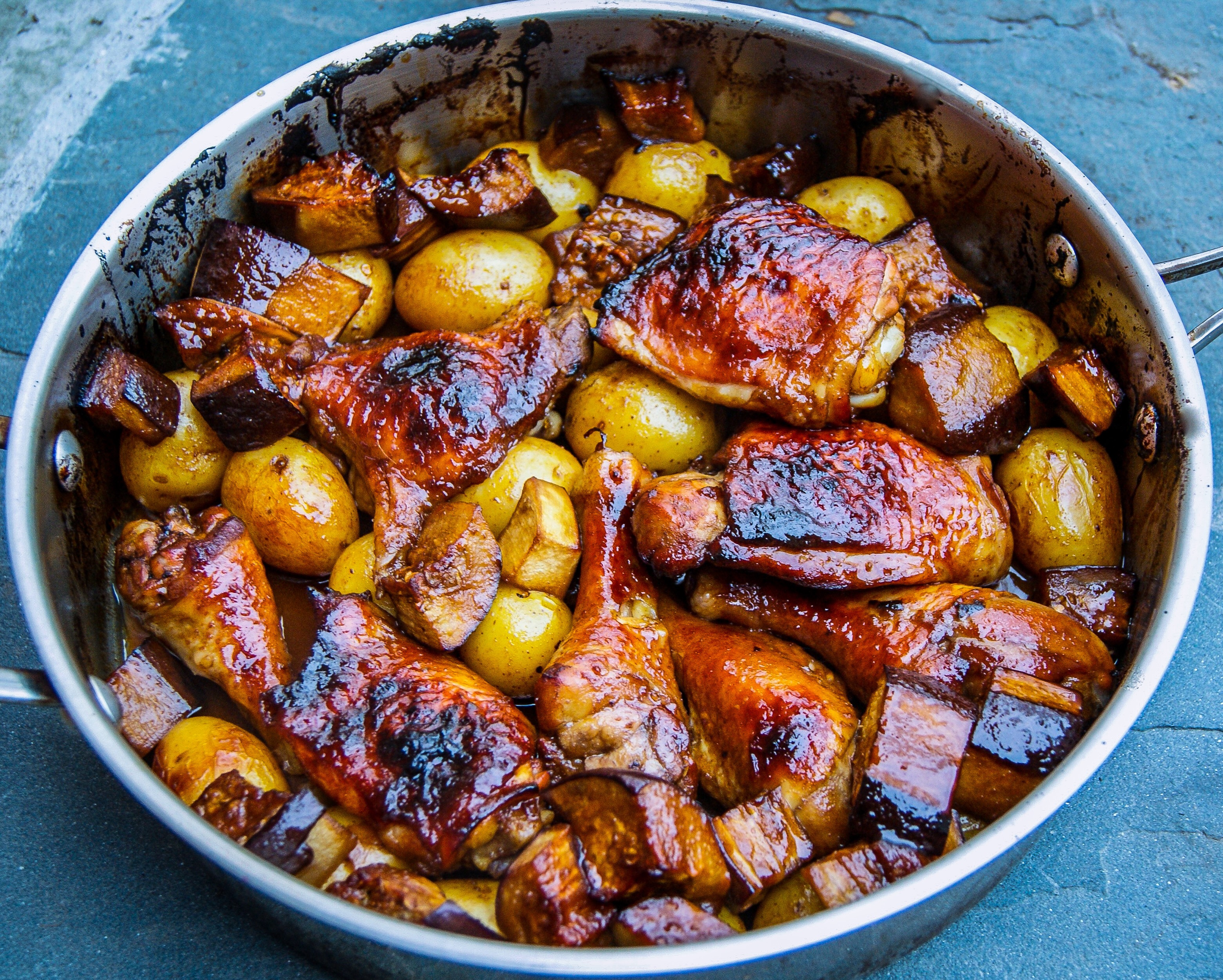 This recipe is influenced by traditional the Persian cuisine's use of sour pomegranate molasses in cooking, adding a sweet Iraqi touch with date molasses. The chicken is roasted in the rich marinade and gets a wonderful crispy caramelized glaze.
Date molasses (known as silan or date honey in Israel) is available at kosher and Middle Eastern markets.
Pomegranate molasses is available at Middle Eastern markets, and some specialty and natural foods supermarkets (such as Whole Foods). When choosing the molasses, try to look for the lightest, thinnest ones.
Prep: 20min
Total: 1h50min
Yield: 6
Servings:
Nutrition Facts :
Ingredients:
½ cup date molasses (silan)
¼ cup pomegranate molasses
⅓ cup olive oil
Kosher salt
1 eggplant, peeled in stripes and cut into 2 inch cubes
2 lb. baby potatoes, or golden potatoes cut into 2 inch cubes
6 chicken thighs
6 chicken drumsticks
Instruction:
Put eggplant cubes in a large bowl, cover with water and mix in 2 tablespoons kosher salt. Set aside for 30 minutes and up to two hours.
Oven to 350 degrees.
Mix date molasses, pomegranate molasses, olive oil and 2 teaspoons kosher salt in a bowl.
Wash and pat dry chicken. Drain and pat dry eggplant. In a large bowl, mix chicken and eggplant with the date molasses mixture. Spray a large oven-proof pan (I used a 12" round pan) with oil, arrange potatoes at the bottom, sprinkle with a little salt, then arrange chicken and eggplant on top of potatoes, push eggplant cubes aside so they don't cover the chicken pieces.
Roast for 75 to 85 minutes, basting chicken and eggplant 4 times during the roasting, until the chicken is cooked through and eggplant is soft. It is crucial to baste both chicken and eggplant to keep them moist, so don't skip that step. Let chicken sit for 5-10 minutes and serve.
Prep:
Total:
Yield:
Servings:
Nutrition Facts :
Ingredients:
1 small eggplant
4 whole chicken legs
1 tablespoon sweet Hungarian paprika
2 tablespoon olive oil
400 gram cooked potatoes, sliced
500 gram fresh tomatoes, cut into wedges (or use canned)
1 yellow banana pepper, seeded and sliced
1 green bell pepper, seeded and sliced
2 small onions, chopped
1 tablespoon butter
Instruction:
This braised chicken is nutritious, filling, and packed with flavor. Save yourself some time by making a bit extra—it tastes even better the next day.
Prep: 1h5min
Total: 1h5min
Yield:
Servings:
Nutrition Facts :
Ingredients:
8 chicken thighs
10 oz eggplants
1 onion
1 bell pepper
4 cloves garlic
5.33 oz spinach
3 bay leaves
1 tbsp smoked paprika powder
1 tbsp ground cumin
1 cup tomato purée (passata)
1.5 cups chicken stock
1 lime
salt
pepper
olive oil
Instruction:
Preheat the oven to 180°C/350°F. Slice onion and bell pepper. Peel and smash garlic cloves. Cube eggplant and rip or slice spinach into rough pieces.
Transfer eggplant to a baking sheet and toss with olive oil, salt, and pepper. Bake at 180°C/350°F for approx. 15 min.
Season chicken thighs on both sides with salt and pepper. Place skin-side down in an ovenproof pan, and sear over medium heat for approx. 8 min., or until the skin is golden brown and crispy. Flip the chicken thighs and sear for another 2 – 3 min. Remove chicken from the pan and set aside.
Add onion, bell pepper, and garlic to the pan where you seared the chicken. Season with salt and pepper. Reduce heat to medium-low, cover, and let cook until onions are translucent, approx. 5 min. Add bay leaf, smoked paprika, and cumin and stir to combine.
Add roasted eggplant, tomato purée, and chicken stock to the pan. Increase the heat to bring to a simmer and squeeze in lime juice. Let cook for approx. 5 min. Nestle the seared thighs back into the pan, skin-side up, and add spinach. Let simmer for 20 min. over low heat.
Transfer the pan to the oven and broil at 200°C/400°F for approx. 8 – 10 min., or until chicken is golden and crispy. Serve with some rice and an extra squeeze of lime, if desired. Enjoy!
I've learned to make this dish from my grandmother who still lives on the shore of the Mediterranean.
Prep: 50min
Total: 1h20min
Yield: 4 to 6 servings
Servings:
Nutrition Facts : calories 335.6 calories, Carbohydrate 26.6 g, Cholesterol 82.1 mg, Fat 10.6 g, Fiber 7.4 g, Protein 35.5 g, Saturated Fat 1.7 g, servingSize None, Sodium 146.8 mg, Sugar 10.2 g, Trans Fat None, unSaturated Fat None
Ingredients:
3 eggplants, peeled and cut lengthwise into 1/2 inch thick slices
3 tablespoons olive oil
6 skinless, boneless chicken breast halves – diced
1 onion, diced
2 tablespoons tomato paste
½ cup water
2 teaspoons dried oregano
salt and pepper to taste
Instruction:
Place eggplant strips in a big pot of lightly salted water and soak for 30 minutes (this will improve the taste; they will leave a brown color in the pot).
Remove eggplant from pot and brush lightly with olive oil. Saute or grill until lightly browned and place in a 9×13 inch baking dish. Set aside.
Saute diced chicken and onion in a large skillet over medium heat. Stir in tomato paste and water, cover skillet, reduce heat to low and simmer for 10 minutes.
Preheat oven to 400 degrees F (200 degrees C).
Pour chicken/tomato mixture over eggplant. Season with oregano, salt and pepper and cover with aluminum foil. Bake in the preheated oven for 20 minutes.