Surprise guests with a fun holiday treat—dipped cheesecake wedges you can eat without a fork. Whenever my son has one, he jokes that he wants to quit his job so he can sell them! —Maria Morelli, Kelowna, British Columbia
Prep: 01h15min
Total: 02h15min
Yield: 1 dozen.
Servings:
Nutrition Facts : calories 951 calories, Fat 64g fat (37g saturated fat), Cholesterol 138mg cholesterol, Sodium 356mg sodium, Carbohydrate 61g carbohydrate (48g sugars, Fiber 2g fiber), Protein 12g protein.
Ingredients:
1-1/4 cups graham cracker crumbs
1/4 cup sugar
1/4 cup butter, melted
CHEESECAKE:
4 packages (8 ounces each) cream cheese, softened
3/4 cup sugar
1/3 cup sour cream
1/4 cup eggnog or half-and-half cream
2 tablespoons cornstarch
1 teaspoon vanilla extract
3 large eggs, room temperature, lightly beaten
1 cup crushed peppermint candies (about 35 candies)
ASSEMBLY:
12 wooden pop sticks
28 ounces semisweet chocolate, chopped
3 tablespoons shortening
1/2 cup green candy coating disks, melted
1/4 cup red candy coating disks, melted
Preheat oven to 325°. Place a greased 9-in. springform pan on a double thickness of heavy-duty foil (about 18 in. square). Wrap foil securely around pan. Place on a baking sheet., In a small bowl, mix cracker crumbs and sugar; stir in butter. Press onto bottom of prepared pan. Bake until lightly browned, 10-12 minutes. Cool on a wire rack., In a large bowl, beat cream cheese and sugar until smooth. Beat in sour cream, eggnog, cornstarch and vanilla. Add eggs; beat on low speed just until blended. Fold in peppermint candies. Pour over crust. Place springform pan in a larger baking pan; add 1 in. of hot water to larger pan., Bake until center is just set and top appears dull, 60-65 minutes. Remove springform pan from water bath. Cool cheesecake on a wire rack 10 minutes. Loosen sides from pan with a knife; remove foil. Cool 1 hour longer. Refrigerate overnight, covering when completely cooled., Remove rim from pan. Cut cheesecake into 12 slices; gently insert a wooden stick into the wide end of each. Place on a waxed paper-lined 15x10x1-in. baking pan; freeze until firm., In a microwave, melt chocolate and shortening; stir until smooth. Spoon chocolate mixture over each slice until all sides are coated; allow excess to drip off. (Keep remaining slices in freezer until ready to dip.) Place on a waxed paper-lined baking pan. Seal any gaps by drizzling with melted chocolate, reheating chocolate if necessary. Refrigerate 10 minutes or until set., Decorate with melted candy coating as desired. Refrigerate until serving.
Deck your dessert table with creamy cheesecake triangles covered with a rich chocolate coating. Keep some in the freezer for drop-in holiday guests!
Prep: 1h10min
Total: 5h15min
Yield: 28
Servings: 1 Tree
Nutrition Facts : calories 250 , Carbohydrate 21 g, Cholesterol 40 mg, Fat 2 1/2 , Fiber 1 g, Protein 3 g, Saturated Fat 10 g, servingSize 1 Tree, Sodium 90 mg, Sugar 18 g, Trans Fat 1/2 g
Ingredients:
1 cup chocolate wafer crumbs
1/4 cup butter or margarine, melted
2 packages (8 oz each) cream cheese, softened
1/2 cup sugar
1/4 cup sour cream
1 teaspoon vanilla
2 eggs
28 paper lollipop sticks or flat wooden sticks with round ends
3 1/2 cups semisweet chocolate chips (from 24-oz bag)
3 tablespoons shortening
2 oz vanilla-flavored candy coating (almond bark), chopped
1/2 teaspoon vegetable oil
Betty Crocker™ green gel food color, if desired
Instruction:
Heat oven to 300°F. Line 8-inch pan with heavy-duty foil so foil extends over sides of pan. In small bowl, mix wafer crumbs and butter. Press in bottom of foil-lined pan.
In large bowl, beat cream cheese and sugar with electric mixer on medium speed until smooth. Beat in sour cream, vanilla and eggs. Pour over crust.
Bake 30 to 40 minutes or until edges are set (center will be soft but will set when cool). Cool in pan on cooling rack 30 minutes. Cover; freeze 2 hours. Meanwhile, cover 1 large cookie sheet with waxed paper.
Remove cheesecake from pan by lifting foil. Cut lengthwise into four long pieces. Cut each piece into 7 triangles, working with 1 long piece at a time (keep corner pieces for snacking). Insert sticks into bottoms of triangles. Place on waxed paper-lined cookie sheet. Freeze 30 minutes. If making ahead, cover and freeze until ready to coat with chocolate.
Meanwhile, in 2-quart saucepan, melt chocolate chips and shortening over medium-low heat, stirring frequently, until smooth. Place in medium bowl.
Working in 2 batches of 14 (keep remaining in freezer until ready to coat), dip each tree quickly into melted chocolate to coat, letting excess drip off. Use knife or spatula to spread chocolate around stick entrance. Place crust side down on waxed paper.
In small microwavable bowl, microwave candy coating and oil uncovered on High 1 minute, stirring every 15 seconds, until melted. Stir in food color. Spoon into 1-quart resealable food-storage plastic bag. Seal bag; cut tiny hole in corner of bag. Pipe melted coating over trees to look like garland. Store covered in freezer.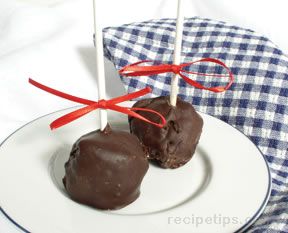 Sweet treats that are easy to prepare and fun to serve for all types of celebrations. Another cheesecake snack to serve for any special occasion is No-Bake Cheesecake Mini-Desserts, or try another chocolate dipped snack like Chocolate Covered Strawberries.
Prep: 10min
Total: 20min
Yield:
Servings:
Nutrition Facts :
Ingredients:
12 each Mini cheesecakes 1 inch square – frozen
7 ounces Dipping chocolate
12 each Short wood skewers for handles
Ribbon to garnish skewers if desired
Wax paper to line pan or baking sheet – 8 inch square
There are several ways to make and prepare the cheesecakes for dipping:
The easiest is to buy the pre-cut individual servings. They are 1 inch square pieces of cheesecake available in the frozen food section of many food stores. These are typically packaged in quantities of 12, 24 or 48 individual servings. Another solution is to bake a round, 8 inch square or rectangular cheesecake and cut individual servings 1 inch square out of the larger cheesecake.
Small cheesecake baking pans are also available in some large stores with houseware departments. The pans most often contain 12 individual round baking compartments, similar to a muffin pan.
Make sure each cheesecake serving has been frozen prior to dipping and insertion of the stick.
To prepare for dipping after the individual servings are ready, line an 8 inch square pan or baking sheet with wax paper which will be used as a surface on which each piece is placed after it is dipped in chocolate.
The sticks for insertion into the cheesecake slices can be any type of food stick available such as wooden skewers, popsicle sticks, lollipop sticks, or craft sticks. Most sticks are made with a pointed end that will enable the stick to be easily inserted in the mini-cheesecake while it is still frozen.
Melt chocolate according to package instructions. If desired, chocolate chips can be used for the dipping chocolate.
While still frozen, insert a stick into each piece of cheesecake to be dipped, either through the bottom or the top of the cheesecake. Keep the cheesecake frozen if possible or insert only a few for the first dipping. It is best to keep the cheesecake frozen so the stick remains securely attached to the cheesecake slice as it is dipped and also so the chocolate begins to set up quickly without excessive dripping after being dipped due to the cheesecake being very cold.
Dip each frozen serving of cheesecake in melted chocolate, fully covering each piece. It may be necessary to use a spoon or knife to smooth out some of the chocolate after dipping each cheesecake.
If desired, the chocolate cheesecakes can be garnished with chopped nuts or brittle chips to enhance the flavor. This should be accomplished before the chocolate hardens. Sprinkle a tablespoon of nuts or chips over the melted chocolate and then place the finished cheesecake the wax paper.
Place in freezer until ready to serve and allow 20 minutes to thaw prior to serving. If desired, garnish each cheesecake stick with a colorful ribbon. This will require approximately 12 inches of ribbon to tie around the stick inserted into the cheesecake and to make a bow.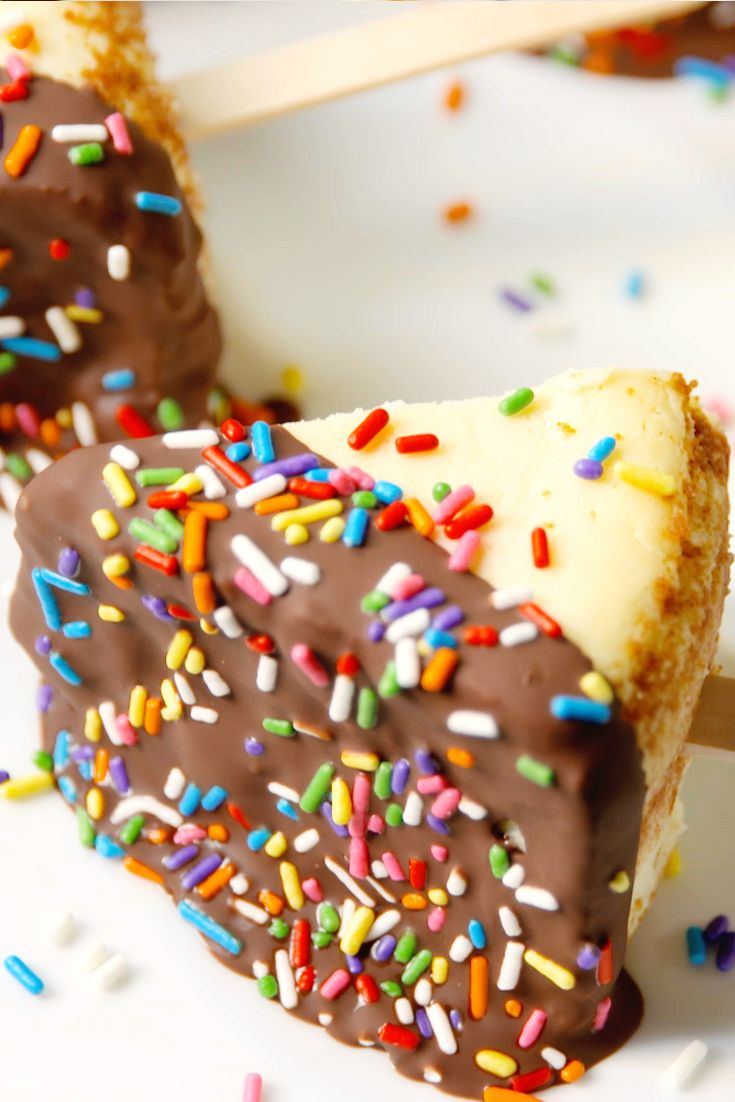 Looking for easy cheesecake ideas? This Frozen Cheesecake on a Stick recipe from Delish.com
Prep: 10min
Total: 35min
Yield: 8-10
Servings:
Nutrition Facts :
Ingredients:
1 store-bought plain cheesecake
1 c. semisweet chocolate chips
2 tbsp. coconut oil
1/2 c. rainbow sprinkles
Instruction:
Slice cheesecake into triangles. Insert a popsicle stick and transfer to a parchment-lined baking sheet.
Freeze 20 minutes.
Meanwhile, set up a double boiler: Bring a saucepan of water to a simmer, then add a glass bowl and add chocolate. Stir until melted, then stir in coconut oil.
Remove from heat and let cool to room temperature.
Dip each cheesecake slice halfway in chocolate shell and add sprinkles immediately.
Let sit 5 minutes until chocolate shell hardens and serve. (If the shell isn't hardening, transfer to the freezer for 5 to 10 minutes.)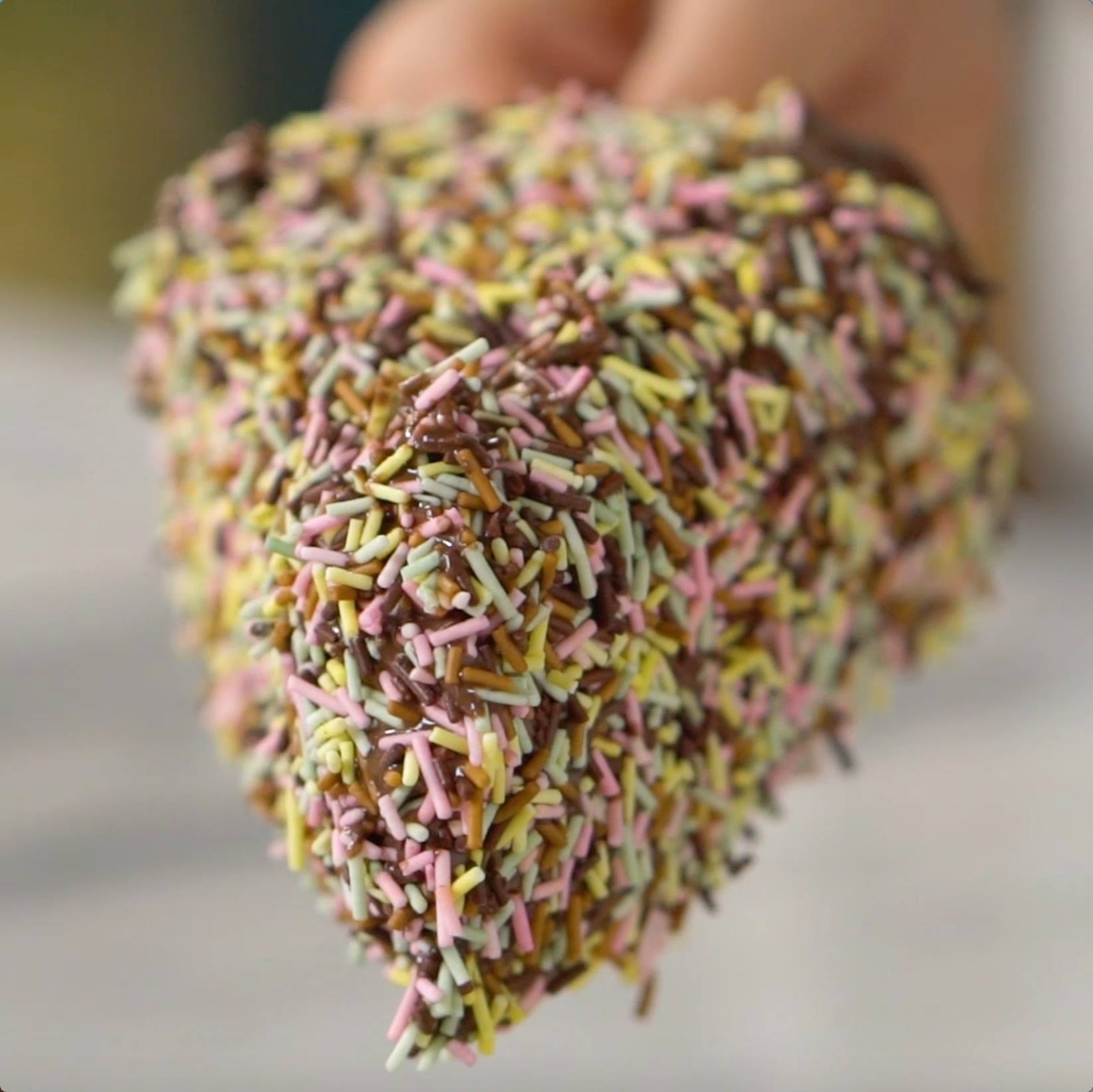 Forget cake pops – CHEESECAKE pops are your new EVERYTHING!
Prep:
Total:
Yield:
Servings:
Nutrition Facts :
Ingredients:
7 ounces vanilla crackers or graham crackers
½ cup butter, melted
14 ounces cream cheese
1½ cups heavy cream
1 cup sugar
½ teaspoon vanilla extract
17 ounces bittersweet chocolate, melted
1 cup chocolate sprinkles
Instruction:
In a food processor, grind the crackers, add the butter, and mix for another 2 minutes or until it forms crumbs.
Cover the bottom of a springform pan with parchment paper. Press crumb mixture into bottom and sides of pan and place in the refrigerator.
In a mixing bowl add cream cheese, heavy cream, sugar and vanilla extract. Beat until combined. Pour the mixture into the pan and place in fridge for 1 hour or until hardened.
Remove the cheesecake from the pan. Use a sharp knife to score the cheesecake into slices without cutting all the way through. Add the popsicle sticks, then cut the cheesecake slices. Place them in the freezer for 3 hours until frozen.
Dip cheesecake slices in the melted chocolate, decorate with chocolate sprinkles and serve.