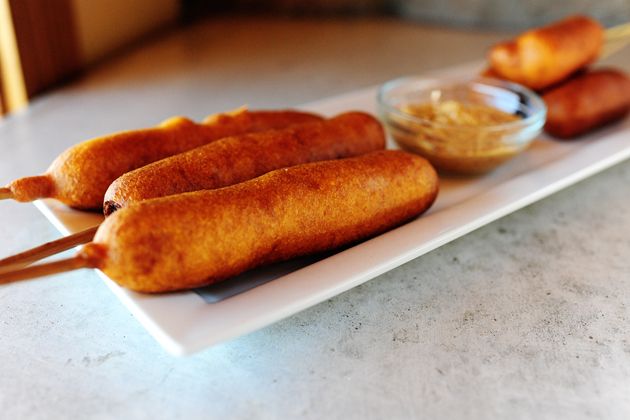 For the second State Fair recipe, I whipped up some hot dogs and cheese-on-a-stick reminiscent not just of state fairs and carnivals…but also of shopp
Prep: 10min
Total: 30min
Yield: 18 servings
Servings:
Nutrition Facts :
Ingredients:
6 c. Krusteaz Pancake Mix
2 c. Yellow Corn Meal
2 whole Eggs, Slightly Beaten
6 c. Water, More If Needed To Thin Batter
Hot Dogs
Cheese, Cut Into 1/2-inch X 3 Inch Sticks
Chopsticks
Canola Oil, For Frying
Spicy Mustard, For Serving
Instruction:
**USE CAUTION WHEN FRYING WITH OIL. KEEP POT ON THE BACK BURNER TO PROTECT SMALL KIDDOS**In a large bowl, combine pancake mix and cornmeal. Stir to combine. Add eggs and water, adding more water as needed for the batter to become slightly thick (but not overly gloopy.) Start out by adding 4 cups, then work your way up to 6 cups or more.Heat canola oil over medium-high heat. Drop in a bit of batter to see if it's ready: the batter should immediately start to sizzle but should not immediately brown/burn. Insert sticks into hot dogs so that they're 2/3 of the way through. Do the same with the cheese sticks.Dip the hot dogs into the batter and allow excess to drip off for a couple of seconds. Carefully drop into the oil (stick and all) and use tongs or a spoon to make sure it doesn't hit the bottom of the pan and stick. Flip it here and there to ensure even browning, and remove it from the oil when the outside is deep golden brown, about 2 to 3 minutes. Repeat with cheese, allowing it to get as golden as possible so that cheese will melt completely.Serve with spicy mustard.
Mozzarella sticks are very easy to make at home. They're deep-fried until golden and crispy on the outside, with melted gooey cheese on the inside. They're so good and take just minutes to fry! Try dipping them in a marinara sauce!
Prep: 15min
Total: 25min
Yield:
Servings:
Nutrition Facts : calories 789.1 calories, Carbohydrate 29.5 g, Cholesterol 82.8 mg, Fat 66.5 g, Fiber 1.1 g, Protein 19.4 g, Saturated Fat 13.3 g, servingSize None, Sodium 805.5 mg, Sugar None, Trans Fat None, unSaturated Fat None
Ingredients:
2 large eggs, beaten
¼ cup water
1 ½ cups Italian seasoned bread crumbs
½ teaspoon garlic salt
⅔ cup all-purpose flour
⅓ cup cornstarch
2 cups oil for frying, or as needed
1 (16 ounce) package mozzarella cheese sticks
Instruction:
Whisk water and eggs together in a small bowl. Mix bread crumbs and garlic salt together in a medium bowl. Blend flour and cornstarch together in a third bowl.
Heat oil to 365 degrees F (185 degrees C) in a large, heavy saucepan.
Dredge a mozzarella stick in flour; shake off excess. Dip into egg mixture. Lift up so excess egg drips back in the bowl. Press into bread crumbs to coat. Place breaded mozzarella stick on a plate or wire rack. Repeat with remaining mozzarella sticks.
Use a spider spoon or a pair of tongs to lower 3 to 4 mozzarella sticks into the hot oil. Fry until golden brown, about 30 seconds. Remove from heat and drain on paper towels. Repeat to fry remaining mozzarella sticks.

Turn ordinary string cheese sticks into a fun and tasty appetizer when they're breaded, fried and served with a side of marinara sauce.
Prep: 30min
Total: 45min
Yield: 4 servings
Servings:
Nutrition Facts :
Ingredients:
6 Marble Jack Cheese
1 cup flour
2 eggs, beaten
1 cup plain breadcrumbs
1 cup Parmesan Cheese Grated
1 tsp kosher salt
4 oz marinara sauce
Instruction:
Measure flour into a bowl and set aside.
Beat eggs in a separate bowl and set aside.
In a separate bowl mix the breadcrumbs with grated Parmesan cheese and salt.
In a separate bowl mix the breadcrumbs with grated Parmesan cheese and salt
Remove cheese from flour and shake off the extra flour from each piece of cheese.
Next drop the flour dusted cheese sticks into the beaten eggs, making sure the entire surface area gets covered by the egg.
Remove cheese from eggs, letting the excess egg drip off, and place into the breadcrumb and Parmesan mixture.
Thoroughly cover the cheese sticks with the breading.
Remove from breading and then repeat steps 5-9.
Remove from breading and freeze for at least 1 hour.
Preheat fryer to 350° F or preheat a saucepan filled with at least 1 inch of oil.
Fry each stick for 2 ½ minutes. Remove from the oil and serve with a marinara sauce.
Prep:
Total:
Yield:
Servings:
Nutrition Facts :
Prep:
Total:
Yield:
Servings:
Nutrition Facts :