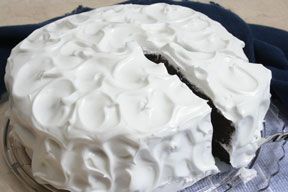 A pretty white frosting that is so light and fluffy it just melts in your mouth. It's color, texture, and almond flavor goes perfect with any chocolate cake.
Prep: 30min
Total: 45min
Yield:
Servings:
Nutrition Facts :
Ingredients:
1 1/2 cups sugar
1/2 teaspoon cream of tarter
1/8 teaspoon salt
1/2 cup water
4 egg whites
1/2 teaspoon almond extract
Remove the eggs from the refrigerator and allow them to set until room temperature.
In a small heavy saucepan, combine the sugar, cream of tartar, and salt. Stir to combine evenly. Add the water.
Over medium heat, bring the mixture to a boil, stirring continuely until it is clear. Allow the mixture to boil until it reaches the soft ball stage or 240°F on a candy thermometer.
Remove from the heat and allow it to set while beating the egg whites.
Beat the egg whites in a large, wide bowl until they form soft peaks. Be sure to use a wide bowl so that you have enough room to be beating the frosting while you are pouring in the sugar mixture.
Once the eggs are at a soft peak, begin to slowly pour the sugar mixture into the egg whites while beating the two together.
Make sure to pour the sugar mixture in a slow steady stream off to one side and continue to beat the frosting the entire time. Do not pour the sugar mixture into the beaters. Move the beaters back and forth into the area where the sugar mixture has been added to incorporate it into the egg whites.
Once all of the sugar mixture has been added, pour in the almond extract. Beat until the frosting is thick enough to form stiff peaks.
Frost the cake as desired. This frosting is perfect for a peak or swirled design.
Refrigerating a cake with this frosting will help keep the frosting soft and fluffy. Cover the cake with a domed cake server or a large container that is deep and wide enough so it does not disturb the frosting.
This recipe is quite old, and belonged to my mother.
Prep:
Total:
Yield: 2 cups
Servings:
Nutrition Facts : calories 80.8 calories, Carbohydrate 20.1 g, Cholesterol None, Fat None, Fiber None, Protein 0.6 g, Saturated Fat None, servingSize None, Sodium 34.6 mg, Sugar 19.2 g, Trans Fat None, unSaturated Fat None
Ingredients:
1 cup white sugar
⅓ cup water
1 tablespoon light corn syrup
⅛ teaspoon salt
2 egg whites
1 teaspoon vanilla extract
3 tablespoons confectioners' sugar
Instruction:
Combine sugar, water, corn syrup, and salt in a saucepan; stir until well blended. Boil slowly without stirring until mixture will spin a long thread when a little is dropped from a spoon (hold the spoon high above saucepan), or reaches 238 – 242 degrees F (114 – 117 degrees C).
In a large bowl, beat egg whites with a mixer until they are stiff, but still moist. Pour hot syrup slowly over egg whites while beating. Continue until mixture is very fluffy, and will hold its shape. Add vanilla, and beat until blended. If icing does not seem stiff enough, beat in 2 or 3 tablespoons confectioners sugar 1 tablespoon at a time until stiff enough to hold its shape. Spread on cake.
Fluffy and glossy, this basic boiled frosting is a favorite classic.
Prep: 10min
Total: 25min
Yield: 2
Servings: 1 Serving
Nutrition Facts : calories 1460 , Carbohydrate 352 g, Cholesterol 0 mg, Fat 0 , Fiber 0 g, Protein 11 g, Saturated Fat 0 g, servingSize 1 Serving, Sodium 770 mg, Sugar 351 g, Trans Fat 0 g
Ingredients:
3 pasteurized egg whites
1/4 teaspoon (pinch) salt
1 3/4 cups sugar
3/4 cup water
1/4 teaspoon cream of tartar
1 teaspoon vanilla
Instruction:
In a large bowl or stand mixer, beat egg whites and salt together until glossy, with soft peaks.
In a large saucepan, whisk together sugar, water and cream of tartar. Bring to a boil, stirring until the mixture reaches firm ball stage (245°F). Turn stand mixer to medium-high. Slowly pour hot syrup into the egg white mixture. Beat until cool and frosting becomes fluffy.
from cdkitchen.com Recipe ID: 24742 This is an easy, quick frosting, like my grandmothers used to make. Here at a high altitude I boil it for two minutes.
Prep:
Total:
Yield:
Servings:
Nutrition Facts :
Ingredients:
1 cup granulated sugar
¼ cup cocoa
¼ cup butter
¼ cup milk
1 teaspoon vanilla
Instruction:
Mix together. Bring to a boil and boil for 1 minute. Add vanilla. Cool partially, then beat with a mixer for 3 minutes or until spreadable consistency.
CDKitchen Note: Please read the reviews on this recipe. We have personally tested this recipe and it WORKS if you follow the directions.
This recipe has received such varying reviews we thought we better bring it to the CDTestKitchen. You'll notice we're giving it 5 stars – that's because it turned out perfect for us. We boiled the mixture about a minute (maybe 20-30 seconds more) then let it cool just a little (in case it splatted it wouldn't burn then!) and beat it with an electric mixer for about 3 1/2 minutes. We used all the measurements/ingredients exactly as called for in the recipe. One thing that may be confusing people is that this is not a fluffy kind of frosting that you use to decorate a cake. This is more of a frosting that would go on brownies, or a cake that is in a pan. The mixture will harden some however, but it definitely shouldn't be soupy like some reviewers mentioned. Be careful not to heat it over too high a heat, or the sugar will start to turn to candy (which will make the mixture crunchy). We think the biggest success factor is the mixing time/technique. Don't try to mix this by hand, you won't get it to the right consistency. Also, don't let it cool too much before spreading it since it will firm up more while it cools (to the point it won't be easily spreadable).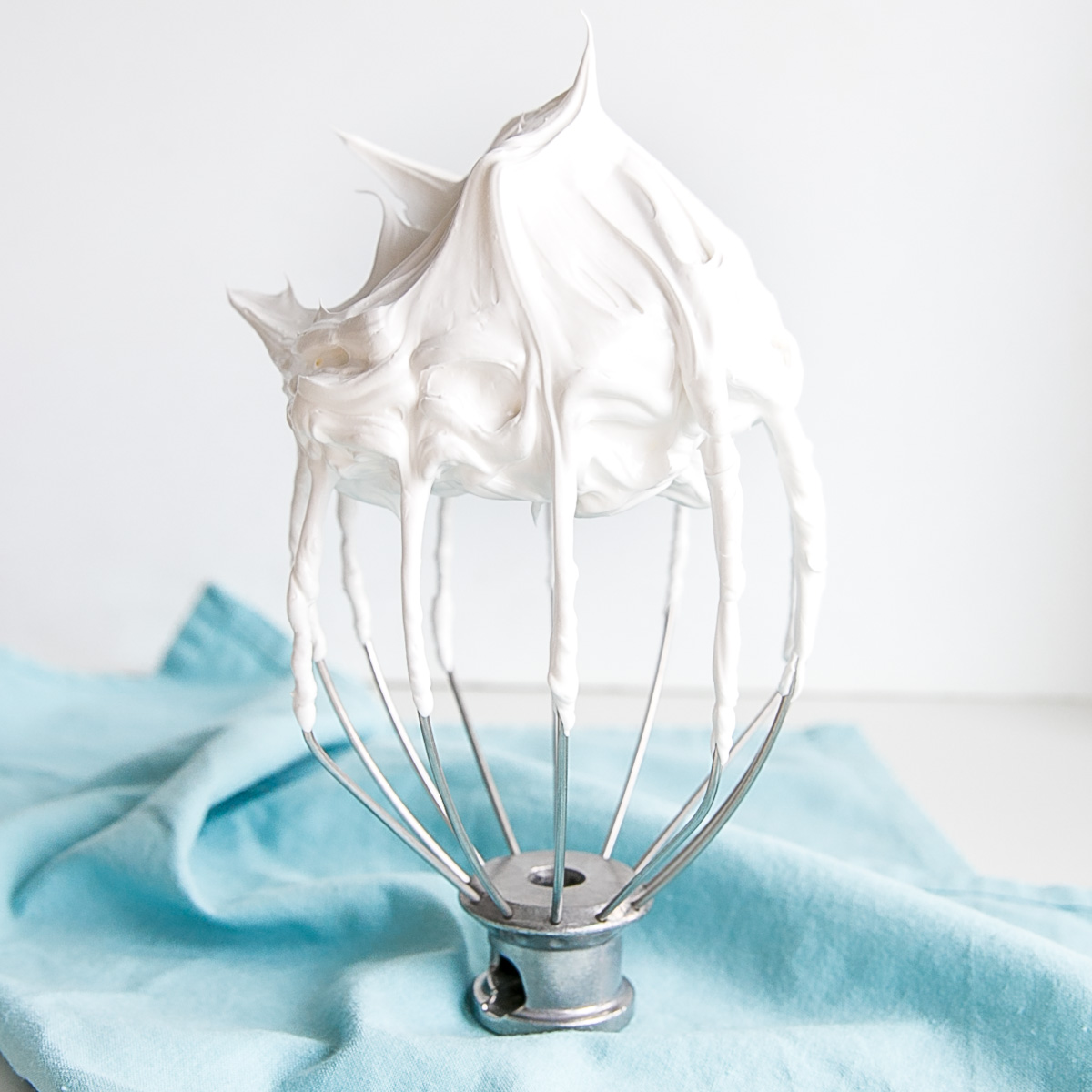 This old-fashioned 7 minute frosting recipe is light, delicious, and easy to make. A bright white frosting that's perfect for cakes, cupcakes, and more.
Prep: 10min
Total: 20min
Yield: 5
Servings: 1 serving
Nutrition Facts : calories 278 kcal, Carbohydrate 67 g, Protein 4 g, Fat 1 g, Sodium 56 mg, Sugar 67 g, servingSize 1 serving
Ingredients:
5 large egg whites
1/2 tsp cream of tartar
1 2/3 cup granulated sugar
1 tsp vanilla
Instruction:
Wipe your mixer bowl and whisks down with lemon juice or vinegar.
Place egg whites, cream of tartar, and sugar into the bowl of a stand mixer, whisk until combined.
Place bowl over a pot with 1-2" of simmering water and stir constantly with a whisk until the mixture is hot, no longer grainy to the touch, and reads 160F on a candy thermometer (about 2-3 mins).
Transfer bowl to your stand mixer and whip on med-high until the meringue is stiff (about 5-7 minutes).
Slowly stream in vanilla while the meringue is whipping. Taste and add more flavoring if desired*