Egg Bhurji (Anda Bhurji) is Indian spiced scrambled eggs. Packed with flavors and nutrition, this dish comes together in under 20 minutes using simple ingredients.
Prep: 5min
Total: 15min
Yield: 4
Servings: 1 serving
Nutrition Facts : calories 163 kcal, Carbohydrate 4 g, Protein 6 g, Fat 14 g, Saturated Fat 9 g, Cholesterol 171 mg, Sodium 112 mg, Fiber 1 g, Sugar 2 g, servingSize 1 serving
Ingredients:
4 large eggs
1/2 teaspoon salt
2 tablespoons vegetable oil
1 tablespoon butter (salted or unsalted)
1/2 cup chopped onions
2 teaspoons finely chopped green chilies
1 teaspoon finely chopped ginger
1 teaspoon chopped garlic
1/2 cup finely chopped tomatoes
1 teaspoon coriander powder
1/4 teaspoon turmeric powder
2 teaspoons pav bhaji masala
1/2 teaspoon Kashmiri red chili powder
1 teaspoon lime juice
2 tablespoons chopped cilantro (fresh coriander leaves)
Instruction:
Whisk eggs and salt in a medium mixing bowl using a wire whisk. Set aside.
Heat vegetable oil and butter in a pan over medium-high heat.
Once the oil is hot, add onions and saute until the onions turn translucent, stirring frequently.
Add green chilies, ginger, and garlic and fry until the onions are light brown in color. Stir frequently while frying.
Now, add tomatoes and cook for another minute. Mash the tomatoes with the back of the ladle while cooking.
Next, add coriander powder, turmeric powder, pav bhaji masala, and Kashmiri red chili powder, and cook for 30-40 seconds, stirring continuously.
Reduce the heat to low.
Add the whisked eggs to the pan.
Stir the eggs using the ladle until they get mixed with the masala and gets scrambled.
Note – If you like soft bhurji, cook the eggs just until set. Remember that they will keep cooking for some time from the resudual heat in the pan. If you like perfectly cooked bhurji, then cook until the eggs are nicely cooked.
Add lime juice and cilantro and mix well. Serve hot.
Try this street style egg bhurji, if you love eggs for breakfast. A twist on scrambled eggs, this recipe is spicy, buttery and full of flavour!
Prep: 10min
Total: 25min
Yield: 4
Servings: 1 serving
Nutrition Facts : calories 238 kcal, Sugar 4 g, Sodium 874 mg, Fat 18 g, Saturated Fat 7 g, Carbohydrate 9 g, Fiber 2 g, Protein 12 g, Cholesterol 227 mg, servingSize 1 serving
Ingredients:
1 1/2 tablespoons Ghee
1 teaspoon Ginger (finely chopped )
1 teaspoon Garlic (finely chopped)
1 teaspoon Green chilli (finely chopped)
1 Red onion (finely chopped (medium))
2 Tomatoes (finely chopped (medium))
1/4 teaspoon Turmeric powder
1 teaspoon Red chilli powder
1 1/2 teaspoons Kitchen king masala
1 1/4 teaspoon Salt
4-5 Button mushrooms (sliced thinly)
5 Eggs (lightly whisked)
2-3 tablespoons Butter
2 tablespoons Cheese (grated)
2 tablespoon Fresh coriander (chopped)
Instruction:
Heat ghee in a large frying pan.
Add the ginger, garlic and green chilies and stir fry for half a minute.
Add the chopped onions and fry till translucent.
Next add the tomatoes, turmeric powder, chili powder, kitchen king masala and salt and fry for a couple of minutes till the tomatoes break down slightly. Add mushrooms and stir fry for a couple of minutes.
Add the lightly whisked eggs and cook on medium heat, whisking to mix them well with the masala till they are cooked.
For a soft bhurji, cook the eggs until just set. If you like a well cooked bhurji, cook the eggs on low heat a little longer.
Add the butter and cheese, mix through and take off heat.
Garnish with finely chopped fresh coriander and enjoy hot on toasted bread or between buttered pav buns or with paranthas.
Take just a few extra minutes, and plain scrambled eggs are transformed into this vibrant eggs bhurji (also spelled "bhurjee") breakfast, flavored with onions, chiles, ginger, tomatoes, and spices. A squeeze of lemon juice and a sprinkling of cilantro add a final dose of brightness. It's delicious enjoyed with roti or paratha, or served with toast.
Prep:
Total: 20min
Yield:
Servings:
Nutrition Facts :
Ingredients:
2 tablespoons ghee or butter
½ cup chopped onion
2 teaspoons 1finely chopped green chile
1 teaspoon grated peeled fresh ginger
1 teaspoon finely chopped garlic
½ cup chopped tomatoes
1 teaspoon ground coriander
½ teaspoon ground turmeric powder
½ teaspoon garam masala
½ teaspoon kashmiri chile powder or other red chile powder
Kosher salt to taste
4 large eggs, lightly beaten
1 teaspoon fresh lemon juice
2 tablespoons chopped fresh cilantro, for serving
Instruction:
In a medium skillet, heat the ghee over medium. Add the onion, chile, ginger, and garlic and cook, stirring often, until the onions are translucent, about 4 minutes. Add the tomatoes and spices and cook, stirring often, until the spices are toasted and the tomatoes soften, 2 to 3 minutes.
Add the eggs. Stir until the eggs are softly scrambled, about 2 minutes. Stir in the lemon juice and serve right away, garnished with the chopped cilantro.
Egg bhurji, to me, is like an Indian version of scrambled eggs. It's not that a traditional scrambled eggs is not sufficient. It's just that we love our spices, and we love to show them off!
Prep: 5min
Total: 15min
Yield: 2
Servings:
Nutrition Facts :
Ingredients:
3 eggs
a pinch cumin seeds
1/2 onion (medium)
1 inch ginger
2 green chillies
1 tomatoes (small)
1 sprig cilantro ((coriander leaves))
1/2 teaspoon chilli (powder)
1/4 teaspoon turmeric
1/2 teaspoon coriander (powder)
to taste salt
Instruction:
Prep the ingredients. Finely chop the onions, green chillies, ginger, and tomatoes.
Beat the eggs by whisking vigorously until they are foamy. This adds air, and provides a great texture to your scrambled eggs. I add salt also in this step.
Heat oil in a pan, and add a pinch of cumin seeds. Let them pop. Ensure you add just enough cumin seeds, so that they don't overpower the flavours. Now add the chopped green chillies, onions, and ginger. OPTIONAL: Add some butter if you want to bring an element of richness to your scrambled eggs.
Cook till the onions are tender. Add chopped tomatoes, and a dash of cilantro.
Mix well, and cook until you get the tomatoes all mushy. Now pour the whisked eggs (give it one last whisk before adding it to the pan). Add chilli powder, coriander powder, and turmeric powder. Mix well, and scramble to cook the eggs.
The eggs will go dry if you overcook them. So cook just enough.
Serve with some toast, chapati or aloo parathas.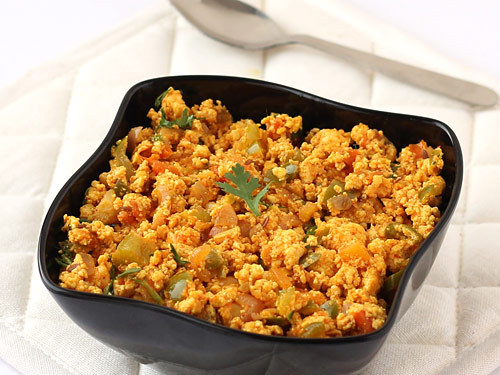 This is a delightfully spicy paneer dish that can be served as an accompaniment or side dish in Indian dinner and its simply irresistible. This egg bhurji inspired Paneer dish has similar taste and texture and is prepared using crumbled or grated paneer with generous use of Indian curry spices, onion, tomato and capsicum.
Prep: 10min
Total:
Yield: 3 servings
Servings:
Nutrition Facts :
Ingredients:
250 gms (1/2 lb) Paneer (cottage cheese), crumbled or grated
1 teaspoon grated Ginger
4-5 Garlic Cloves, crushed
1 Green Chilli, seeded and finely chopped
2 medium Onions, finely chopped
1 large Tomato, finely chopped
1 medium Capsicum, finely chopped
1/4 teaspoon Garam Masala
1/4 teaspoon Turmeric Powder
1/2 teaspoon Red Chilli Powder
1 teaspoon Coriander Powder
2 tablespoons Milk
1 teaspoon Lemon Juice
1½ tablespoons Oil
2 tablespoons Fresh Coriander Leaves, finely chopped
Salt
Instruction:
Heat oil in a pan over medium flame. Add cumin seeds and allow them to crackle. Add grated ginger, crushed garlic and chopped green chilli and sauté for a minute.
Add chopped onion and sauté until it turns translucent, about 2-3 minutes.
Add chopped tomato and chopped capsicum, stir and cook until they turn soft and oil starts to separate for approx. 2-3 minutes.
Add garam masala, turmeric powder, red chilli powder, coriander powder and salt, mix well.
Add milk.
Mix and cook for a minute.
Add crumbled paneer and lemon juice.
Mix and cook for 3-4 minutes; stir occasionally in between to prevent sticking.
Turn off the flame and transfer prepared paneer bhurji to a serving bowl. Garnish with fresh coriander leaves and serve.