Making aushak might be your path to realizing your affinity for spring's alliums.
Prep: 1h
Total: 2h
Yield: 6
Servings:
Nutrition Facts :
Ingredients:
Instruction: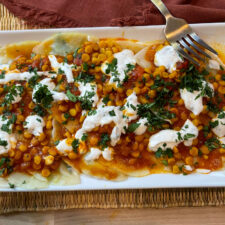 Prep:
Total:
Yield:
Servings:
Nutrition Facts :
Ingredients:
2 Cups Lentils (rinsed)
2 -3 Large Leeks
For Lentil Sauce Base
1 Large Onion
2 Cloves Garlic
2 Tablespoons Tomato Paste
1 1/2 Teaspoons of Salt
1/2 Teaspoon turmeric
1 Teaspoon cumin
1 Teaspoon chili powder
1 Teaspoon ground coriander
3-4 fresh tomatoes
2 Cups of water
Spices for Leek Stuffing
1 Teaspoon ground cumin
1 Teaspoon of ground coriander
1/2 teaspoon of turmeric
1 teaspoon of garlic powder
1 teaspoon salt
a few cracks of black pepper
Chili flakes
Instruction:
Rinse your lentils.
Chop your leeks finely or use a food processor that can slice them thin. Either before or after, wash them and drain them thoroughly. Leeks retain a lot of dirt and sand.
This will give you many more leeks than you need. I always take a bag and freeze the rest of them. You can save them for ashak in the future, or use them to make my bolani recipe.
Boil lentils on medium and simmer for about 10 minutes covered.
Begin on your sauce base for lentils. Chop onion and place in oil.
Add 1 1/2 teaspoon salt, 1/2 teaspoon of turmeric, 1 teaspoon cumin, 1 teaspoon chili powder, 1 teaspoon ground coriander, and 2 tablespoons of tomato paste. You do not want a raw tomato paste taste. Then add 2 cloves of garlic. Add your fresh tomatoes. Cook on medium until lentils done.
After tomatoes get soft and lentil base gets cooked, add about 2 Cups of water. You will use the water to loosen up the sauce. Let the water incorporate into the sauce mixture.
Take cut leeks and add all of the spices to them and mix thoroughly.
Now take your wontons and assemble your dumplings.  The easiest format is to take them and make a "half-moon" and wet the edges after you fill then, fold over, and pinch edges with a fork.
Boil dumplings for 3-4 minutes.
Plate your dish with my yogurt sauce base. Cover the yogurt with your dumplings and then cover the dumplings with the lentil mixture. Cover with some green for appearance.
Sometimes you find a dish that turns a thing you've eaten a 100 times on its head. If you haven't had Aushak, they may do that. These Afghani scallion dumplings contain no cheese or meat, but vegetables — green onions — as a previously uncooked filling.
I first ate Aushak around 2000 in an Afghani restaurant in Huntington on Long Island called Ariana, and have since had other renditions, including at Helmand in Cambridge (the Afghani restaurant belonging to Mahmood Karzai, the brother of Afghanistan's President Hamid Karzai), but there's no reason you can't make these. From filling and sauce to plate it'll take about an hour to make enough for two people.
This recipe combines the best aspects from recipes by Ruth Reichl, Craig Claiborne, and Food.com. And yes, I hear you, "A dumpling isn't pasta! And hey, you're using wonton wrappers!" Well, technically, it's a ravioli. And as for wonton wrappers, they're a quick, easy replacement that give dishes a homemade pasta feel when you're in a rush.
Click here to see Recipe SWAT Team: Pasta Dishes.
Prep:
Total:
Yield: 4
Servings:
Nutrition Facts :
Ingredients:
Instruction:
This delicious savory Afghan dumpling recipe is served on holidays and special occasions.
Prep: 30min
Total: 60min
Yield: 8
Servings:
Nutrition Facts :
Ingredients:
~50 wonton wrappers
2 large leeks (quartered and thinly sliced)
1 bunch green onion (thinly sliced)
Salt and pepper (to taste)
Mint chiffonade (for garnish (optional))
1 lb ground lamb
1 sweet onion
3 garlic cloves (minced)
1 green chili (deseeded and minced)
¼ cup tomato paste
2 tsp paprika
2 tsp coriander
salt and pepper (to taste)
2 cups plain yogurt
2 garlic cloves (minced)
2 tsp dried mint
salt and pepper (to taste)
Instruction:
In a large bowl, mix together the leeks, green onion, green chili, and salt/pepper. Let sit for 10-15 minutes and then use a paper town to squeeze out some liquid from this mixture.
Meanwhile, lay out the wonton wrappers. Spoon about a ½ tsp onto each wonton wrapper. Lightly brush two sides (or half if you're using circles) with water and fold over, pinching the edges to completely seal it. In a large bowl of boiling water and working in batches, boil the dumplings for about 3-5 minutes for each batch.
For the lamb sauce, saute the onion and garlic in a large pan until starting to become golden. Move to the side of the pan and add the ground lamb, searing on each side before using a spatula to break it up into small pieces. Mix together with onions and add tomato paste, green chili, and spices. Saute until lamb is cooked through before mixing in water and cooking for another 2 minutes. Turn off the heat and cover pan.
For yogurt sauce, mix together all ingredients in a bowl.
To serve this dish, start by spreading some yogurt sauce onto a plate, adding a few dumplings, spooning over some lamb sauce, then a few extra dollops of yogurt sauce, and finally you can sprinkle over some mint chiffonade.
I first tasted Aushak at the Salang Pass restaurant in Fremont, a city where a lot of Afghan immigrants have settled. Aushak is proof that Marco Polo made his way through that part of the world (I mean through the Hindu Kush, not Fremont!) enroute back from China. Aushak is traditionally made with beef – it's the Afghan version of ravioli with a meat sugo sauce, except that the Afghans use spices such as cardamon, sumac, coriander etc instead of herbs like oregano and basil.
I prefer the vegetarian version of Aushak, and instead of a flat dumpling, I make a "tortellini" shaped dumpling that can hold the sauce better. In line with Mr. Polo's "Chinese" influence, I recommend using wonton skin to make the dumplings.
Prep: 30min
Total: 40min
Yield:
Servings: 560 g
Nutrition Facts : servingSize 560 g, calories 1005, Fat 13.19 g, Trans Fat 0.18 g, Saturated Fat 2.18 g, Cholesterol 28 g, Sodium 2549 g, Carbohydrate 183.97 g, Fiber 16.8 g, Sugar 5.37 g, Protein 37.52 g
Ingredients:
1 cup plain yogurt
1 clove garlic, crushed
1 Tablespoon fresh mint
1/4 teaspoon salt
3 tablespoon Oil
1 yellow onion, finely diced
2 cloves garlic, minced
1 Tablespoon ginger, peeled, grated
1 Tablespoon cumin seeds
1 28-oz can crushed tomatoes
4 Cardamom pods
1 teaspoon cinnamon
1 Tablespoon ground coriander
½ teaspoon sumac
½ teaspoon cayenne
1 teaspoon kosher salt
1 teaspoon black pepper
1 ½ cups water
1 cup yellow split peas, cooked
3 leeks (about 4 cups chopped)
1 teaspoon kosher salt
½ cup finely chopped cilantro
48 pieces square wonton wrappers
Some mint, chiffonade
To make the yogurt sauce: Mix all the ingredients together. Set aside.
To make the tomato sauce: Heat oil in a pan set over medium heat. Add chopped onions, and sauté until translucent about 3 minutes. Add minced garlic, ginger and cumin and sauté, 2 minutes, stirring frequently, until seeds are browned and oil is fragrant.
Add tomatoes, cardamom, cinnamon, coriander, sumac, cayenne, salt, pepper and water.
Simmer gently over low heat until sauce is redued by half and is thick. Stir in cooked split peas. Keep warm until aushaks are ready to serve.
To make the aushak filling: Cut off the dark green hard leaves from the leek. Keeping the roots to hold the leeks together, halve lengthwise. Fan out the leeks and rinse under the faucet to remove sand. Slice finely cross, wise, discard the root.
Microwave leeks until soft, about 4-5 minutes, stirring occasionally.
Combine leeks with salt, cilantro and let it cool.
Folding the dumplings: On a clean surface lightly dusted with cornstarch, brush edges of the wonton wrapper with a little water (just slightly damp). Mound about 1 Tablespoon of the filling in the center of each wrapper. Bring opposite corners together to make a triangle and press to seal, making sure to remove any air from the filling. Make sure seams are well-sealed. Next bring the two corners along the long edge of the triangle to meet together and overlap them. Press the two corners together to fuse them. Place on a tray dusted with cornstarch.
Cooking the dumplings: Bring a pot of water to boil. Drop in about 12 dumplings in at a time, give it a stir so that the dumplings do not stick to the bottom. Wait 2-3 minutes or until the dumplings floats up. Remove with a slotted spoon.
Serving: Place dumplings in a plate, ladle over tomato sauce and drizzle with yogurt sauce. Garnish with mint.