Homemade bread, using a breadmaker or by hand, that contains healthy ancient grains.
Prep: 120min
Total: 145min
Yield: 10
Servings:
Nutrition Facts :
Ingredients:
1 egg, room temperature
enough water with egg to measure 1 cup, warm
2 T olive oil
3 T honey
2 tsp sea salt
3 C ancient grain flour of your choice
1 1/2 tsp quick rising yeast
Instruction:
Place the ingredients in the order listed in your bread machine and set to dough setting.
Once dough is complete, remove from machine and place in a greased bread pan.
Cover with a damp towel and let rise until double, about an hour, depending on the temperature of the room.
If you want to make it by hand, mix egg, water, oil, and honey in a bowl, mix flour, salt, and yeast together and slowly add to dry ingredients incorporating as you go. Once all ingredients are mixed, knead for about 10 minutes. Then place in a greased bread pan and cover with a damp towel until doubles in size.
Bake at 350 for about 25 minutes.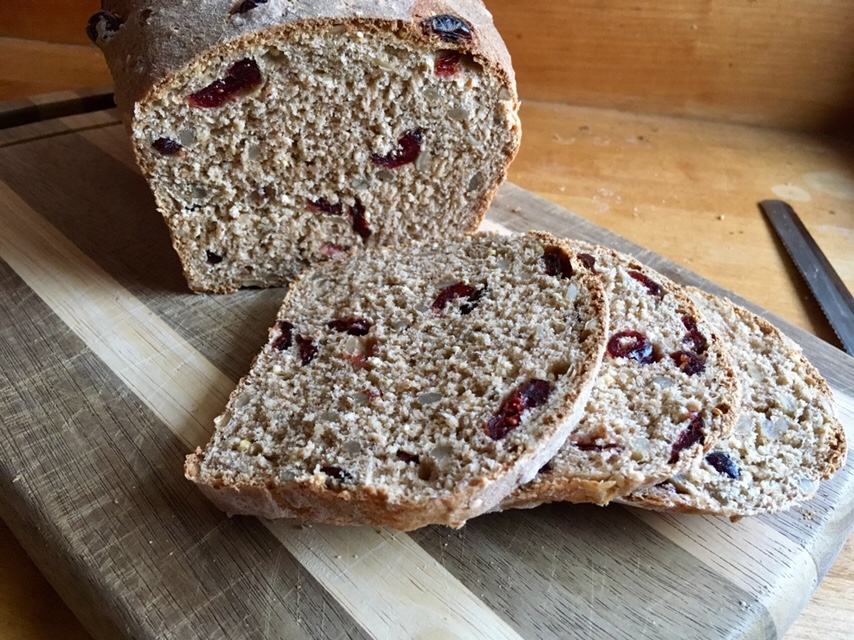 A hearty, nutrient-dense, slightly sweet yeast bread packed with healthy whole grains and dried cranberries.
Prep: 15min
Total: 50min
Yield: 1
Servings:
Nutrition Facts :
Ingredients:
1 1/4 cup milk, warm (not hot) ((can substitute water or vegan milk))
2 Tablespoons butter or oil
1/4 cup maple syrup
1 Tablespoon honey ((can substitute maple syrup))
2 cups whole wheat flour
1 cup all-purpose flour
1 teaspoon salt
1 teaspoon fast-acting yeast
1 Tablespoon cracked wheat (bulgur)
1 Tablespoon sesame seeds
1 Tablespoon millet
1 Tablespoon quinoa
1/4 cup ground flax seeds (flax meal)
1/2 cup sunflower seeds
1 cup dried cranberries
Instruction:
Grease and flour an 9″ bread pan. Set aside.
Warm milk so it just feels warm to the touch, not hot. Add butter/oil, maple syrup, and honey.
In a mixing bowl, combine flours, salt, yeast, and whole grains except for the sunflower seeds and cranberries. With mixer on low, slowly pour liquid into dry ingredients, and mix until well combined. Add sunflower seeds and cranberries. Let your mixer knead the dough for several minutes or do it by hand.
Dough will be a little sticky, so sprinkle with a small amount of flour and form into a smooth log. Place in prepared bread pan, then cover with plastic wrap or a kitchen towel. Set in a warm spot to rise for about 3 hours.
When dough has risen into a nice, smooth loaf, preheat oven to 350 F/177 C. Bake for 35 minutes. After removing from oven, let loaf sit in pan for about 5 minutes to allow sides to release. Then tip loaf out of the pan and place it on a wire rack to cool completely. Slice thin and keep in an airtight container. Will keep for about a week at room temperature. For longer storage, freeze in a zip-top bag.
This loaf of whole-grain bread is loaded with nutritious whole grains, soft and moist but still chewy on the inside with a crispy crust. Simple and easy no-knead recipe.
Prep: 15min
Total: 135min
Yield: 24
Servings: 1 slice
Nutrition Facts : servingSize 1 slice, calories 107 kcal, Carbohydrate 22 g, Protein 3 g, Fat 1 g, Saturated Fat 1 g, Sodium 147 mg, Fiber 2 g, Sugar 1 g
Ingredients:
4½ cups flour (567 grams all purpose flour)
1½ tsp salt
1 tsp yeast (instant)
1 cup whole grains (plus about 1/3 cup more for coating the outside)
2 cups water
Instruction:
To adjust the portions, click on the number of serving and a slider will pop up. Adjusting the slider up or down will automatically calculate the amount needed for each ingredient.
Mix all the ingredients together with a mixing spoon. The dough will be very rough and shaggy
Let dough rest 15 minutes
Make an oil slick on the counter and do 4 stretch and folds at 20-minute intervals as demonstrated in this YouTube Video. Click here.
After the last stretch and fold, place the dough in an oiled bowl and cover with plastic wrap.
Let the dough rise until nearly double – about an hour.
After the dough has doubled remove it from the bowl and split in half. Form each rustic loaf as shown in the video. click here Much of the gas in the dough should remain in the loaf to give it small air pockets after baking.
Gently roll the dough in the whole grains to lightly coat the outside of the loaf. Misting the wholegrains with water helps them adhere to the loaf.
Place loaves on a large parchment-lined baking sheet without a lip. If you don't have one without a lip you can bake the loaves on the baking sheet.
Loosely cover the loaves with plastic wrap and let loaves rise until nearly double. About 45 minutes. Preheat oven to 450 degrees while the loaves are rising,
Just before baking make 3 horizontal slashes with a sharp knife. Mist the loaves with water from a spray bottle.
Place loaves on baking steel by sliding them off the baking sheet. Mist loaves every 60 seconds for the first 3 minutes of baking.
Bake loaves for 12 minutes at 450 degrees and then decrease the temperature to 400 degrees and bake another 20-25 minutes or until the internal temperature reads 210 – 212 degrees on an instant-read thermometer. If the loaves start to over-brown loosely tent them with foil. If your oven has a hot spot move the loaves around to allow them to brown evenly.
I've been experimenting with Ancient grains lately. They're various grains from little known plants that were often a part of our distant ancestor's diet. They include quinoa, amaranth, Kamut, flaxseed and spelt. They have a nutty, flavorful taste. More importantly, they're packed with proteins, amino acids, thiamin, niacin, vitamins E, A and D and have both anti-inflammatory and anti-oxidant properties. Better yet, they're easy to grow and most of them are gluten-free.
Prep: 0min
Total: 0min
Yield: 2
Servings:
Nutrition Facts : calories 0, Carbohydrate , Cholesterol , Fat , Fiber , Protein , Saturated Fat , servingSize , Sodium , Sugar , Trans Fat
Ingredients:
1 1/4 cups lukewarm water
2 tablespoons sugar
1 teaspoon salt
1 tablespoon olive oil
1 cup (4 1/2 ounces) ancient grains flour (or whole ancient grains like quinoa, amaranth, and spelt).
2 1/4 cups (10 1/4 ounces) bread flour
1 tablespoon vital wheat gluten
2 1/2 teaspoons active dry yeast or bread machine yeast
1 egg yolk and 1 teaspoon of water whisked
1 tablespoon of ancient grains for topping
Instruction:
DIRECTIONS:
Add the ingredients to the bread pan in the order indicated in the recipe and select whole wheat cycle, 1.5-pound loaf and medium crust.
After the rising cycle baste the top of the loaf with the egg whished egg wash and sprinkle the grains on top.
When done cool on a wire rack for 15 minutes, slice and serve.
Like always, you should watch the consistency of your dough during the early dough kneading cycle. If it's too dry add a tablespoon of warm water at a time to get the consistency right. If it's too wet or has a batter-like consistency add a tablespoon of bread flour at a time to thicken it up.
Prep:
Total: 1
Yield:
Servings:
Nutrition Facts :
Ingredients:
100g hulled organic millet
70g sunflower seeds
70g pumpkin seeds
70g brown linseeds
70g roughly chopped walnuts
150g teff flour
40g chia seeds
3tbsp psyllium husk powder
100g porridge oats (gluten free if required)
50g raisins or finely chopped dried figs
1 tsp salt
2 tbsp honey
60g coconut oil, melted
300g water
Pre-heat the oven to 200°C.
Grease a regular loaf tin and set aside.
Tip the whole millet, sunflower seeds, pumpkin seeds, linseeds and walnuts onto a baking tray and bake in the oven for 10 minutes until golden. Be sure to toss the nuts and seeds regularly while they bake so as to avoid any burning at the edges.
Once cool, tip into a bowl and add the teff flour, chia seeds, psyllium husk powder, porridge oats, raisins and salt and toss everything together.
Put the honey and coconut oil into a pan and melt over a gentle heat before pouring into the bowl of seeds and grains. Add the water and stir everything together until you have a thick dough. Leave to rest for at least an hour.
Transfer the mixture to a loaf tin and press the dough into a neat loaf with a smooth top. The mixture will look relatively dry at this stage so it is important to press the mixture together as much as you can. It is also worth pushing any raisins down beneath the surface so that they do not burn in the oven. Bake for 50 – 60 minutes until the bread sounds hollow when tapped.
Leave to cool before slicing and serving as it is or toasted with your favourite toppings – a personal favourite of ours includes grilled sardines with a light pickle, fresh herbs and a spritz of lemon.